Rumble in the Midwest
A downloadable game for Windows and macOS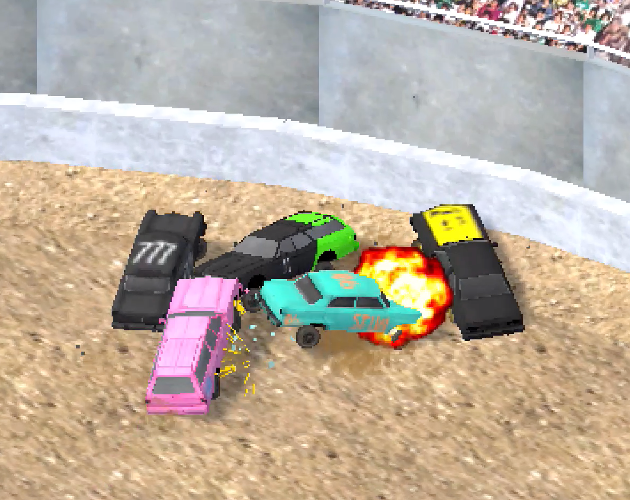 An isometric, retro-ish, demolition derby. Pretend that you found this in a clearance bin in the electronics department of a Wal-Mart in 1997.

Created by Tom Duggan (tomduggan85@gmail.com).
2 Game Modes
Classic Rumble - Crash into the other cars until you're the only one left.

Sudden death - Same as classic rumble, but without arena walls. If you fall into the pit, you're done.

4 Difficulty Levels

8 Cars



Keyboard Controls
Up arrow / W: Gas
Down arrow / S: Brake (all wheels)
Left arrow / A: Steer left
Right arrow / D: steer right
Spacebar: Handbrake (rear wheels)
R: Toggle reverse
Esc: Pause game


CREDITS
Programming / Art: Tom Duggan
3D models: Renafox and filipeb2011
Fonts: Chequered Ink
RELEASE HISTORY
v1.0.0 (March 2020)
First release, 8 cars and 2 game modes.
Download
Click download now to get access to the following files:
rumble_v1.0.0_mac.zip
22 MB
rumble_v1.0.0_win32.zip
19 MB
rumble_v1.0.0_win64.zip
21 MB
Comments
Log in with itch.io to leave a comment.
really nice job you've done here, a lot of fun :)
Really fun , its ganna be cool with sound . and i think you should add more paintjobs and visual crash damage . but overall its a great game good job , multiplayer and maps would be sweet too
Thanks for playing. Crash damage, both deforming and lost parts, is high on my list. More game modes (teams, 1-vs-all, etc. ) is too.
The game is very nice, good job.

However, I have no sound ingame, is this a known issue?
Hi, thanks! The game has no sound currently. It's on my list of things to add in the future.
Lool what an amazing game, I hope that I could see it as a multiplayer game pleease :D <3